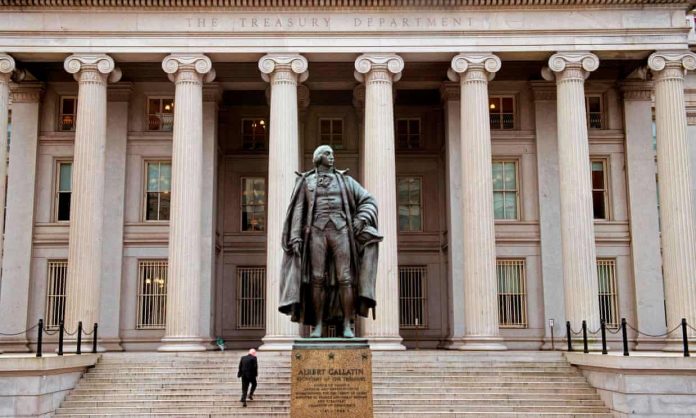 Natalie Mayflower Sours Edwards leaks related to Russia probe.
In an indictment released on Wednesday, federal prosecutors charged an official in the Treasury Department with illegally leaking financial information about bank transactions by certain people involved in the investigation of Russian interference in the 2016 elections, indicating that a series of leaks to one news organization took place over the last year about key figures in the case, as well as details of the underlying financial probe.
"We hope today's charges remind those in positions of trust within government agencies that the unlawful sharing of sensitive documents will not be tolerated," said U.S. Attorney Geoffrey Berman in a statement.
In an 18 page criminal complaint released today, the feds charged Natalie Mayflower Sours Edwards, a senior official in the Treasury Department's Financial Crimes Enforcement Network, with leaking 'Suspicious Activity Reports' about certain financial transactions which were red-flagged by investigators.
"Each of the SARs Disclosures related to matters relevant to investigations being conducted by the Office of the Special Counsel" and other units looking at the Russia investigation, "such as suspicious transactions relating to Paul Manafort, Richard W. Gates, Russian diplomatic accounts, and other matters," the complaint stated, rattling off the name of President Donald Trump's former campaign manager, and a top aide, both of whom are now cooperating with the probe led by former FBI Director Robert Mueller.
While the news organization was not named, it is reportedly Buzz Feed News, which has published a number of articles related to these SAR's.
The feds say they found evidence on Edwards' cell phone, showing that she had 'engaged in hundreds of electronic communications with Reporter-1, many via an encrypted application."
Prosecutors say the evidence was still on her cell phone, when she was arrested.
"At the time of EDWARDS's arrest, she was in possession of a flash drive appearing to be the flash drive on which she saved the unlawfully disclosed SARs, and a cellphone containing numerous communications over an encrypted application in which she transmitted SARs and other sensitive government information to Reporter-1."
The criminal complaint shows the feds were able to monitor messages being sent between the reporter and Edwards, after getting a court ordered 'pen register,' which records the numbers involved in communications, but not the actual details of those messages.
The complaint also hints at other possible leakers – or at least employees within the Treasury Department who were in with the same reporter.
"Initially, EDWARDS denied having any contact with any member of the news media, but indicated that she was aware that CC-1 and another FinCEN employee ("Employee-1″) were in contact with the news media," the feds stated.
There was no indication if other charges would be forthcoming.
The 40 year-old Edwards faces two charges which carry a maximum sentence of five years in prison for each – unauthorized disclosures of Suspicious Activity Reports, and one count of conspiracy to make such disclosures.