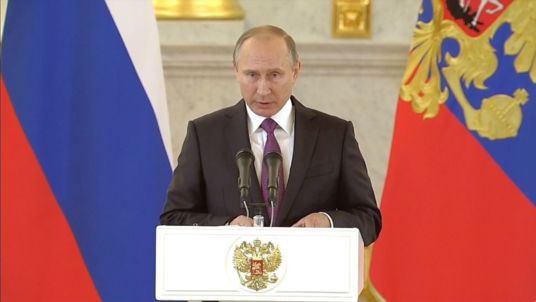 Canada's immigration website has crashed as Americans watched Donald Trump take the lead and then win the US election.
Searches for "move to Canada" and "immigrate to Canada" spiked on Tuesday night as election returns started favouring the Republican nominee.
The website for Citizenship and Immigration Canada was down at the same time, and has suffered several outages since.
New Zealand has also reported an increased traffic to its website for residency visas from US nationals on the eve of the vote.
Amid financial markets mayhem in the wake of Mr Trump's shocking victory, reaction across the world started pouring in.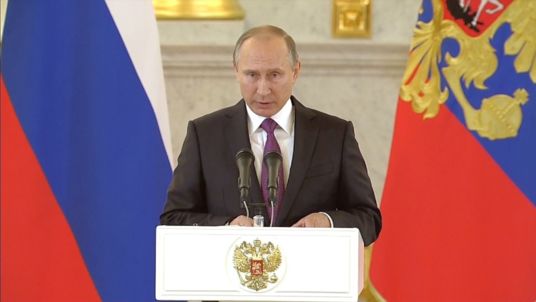 :: Russia
President Vladimir Putin was among the first to congratulate Mr Trump.
"Putin expressed hope for joint work to restore Russian-American relations from their state of crisis, and also to address pressing international issues and search for effective responses to challenges concerning global security," the Kremlin said in a statement.
Mr Putin also said he has "confidence that building a constructive dialogue between Moscow and Washington that is based on principles of equality, mutual respect and a real accounting each other's positions, in the interests of our peoples and the world community."
Former Soviet leader Mikhail Gorbachev said the result offers an opportunity to repair ties between Moscow and Washington. "Maybe he will understand that a lot depends on the position of Russia," he said.
:: Cuba
There was no official reaction to the electoral success of Mr Trump, who has threatened to reverse Barack Obama's moves to open relations with the island. But Cuba announced five days of military exercises to prepare for potential "enemy actions". The exercise had been scheduled before the election.
:: Canada
Prime Minister Justin Trudeau said "Canada has no closer friend, partner, and ally than the United States" and added he looked forward to working very closely with Mr Trump on trade, investment, international peace and security.
However, the country's most important newspaper, The Globe and Mail, said the result "throws into disarray Prime Minister Justin Trudeau's goal of forging a North American energy and climate strategy".
:: Mexico
The peso suffered its biggest fall in 22 years on fears Mr Trump will stick to a campaign pledge to rewrite or dump a free trade treaty he says is loaded in Mexico's favour.
President Enrique Pena Nieto said he is ready to work with Mr Trump. During the campaign, the Republican threatened to deport millions of undocumented Mexican migrants, many of whom he described as rapists and drug runners, and to keep others out by building a massive border wall he says Mexico will pay for.
"We have to start saving for that wall," said Rafael Garnica, a 29-year-old Mexico City technology entrepreneur.
"It's not just Trump that frightens me, it's that he represents."
:: Israel
Benjamin Netanyahu said he is certain the two countries can work together to "reach new heights" in bilateral relations.
:: France
President Francois Hollande, a socialist, said Mr Trump's stunning victory "opens a period of uncertainty".
Marine Le Pen was one of many populist leaders across Europe to welcome the stunning result.
Ms Le Pen, hoping to ride anti-establishment sentiment to victory in French presidential elections in a few months, tweeted her support to the "new president of the United States and the American people, free!"
:: Netherlands
Anti-Islam far-right MP Geert Wilders called Mr Trump's victory "a historic victory, a revolution".
:: Germany
Chancellor Angela Merkel offered Mr Trump "close cooperation" based on the shared values of "democracy, freedom, respect for the rule of law and human dignity, regardless of origin, skin colour, religion, gender, sexual orientation or political belief".
Foreign Minister Frank-Walter Steinmeier said the outcome of the election is "different than most people in Germany would have wanted, but of course we have to respect it".
With Mr Trump's victory, he said, "nothing is going to get easier. A lot will get harder".
German TV station NTV went for a less diplomatic approach, tweeting a comment piece headlined the "President Trump: biggest f*** you of all time".
EU – #US ties are deeper than any change in politics. We'll continue to work together, rediscovering the strength of Europe

— Federica Mogherini (@FedericaMog) November 9, 2016
:: Italy
Matteo Renzi, one of the few world leaders to publicly endorse Hillary Clinton, expressed surprise and said "the friendship between the two countries remains strong and solid".
Beppe Grillo, the comedian turned populist leader and founder of the anti-establishment 5-Star Movement, called the result "incredible" and said it marked an "apocalypse for information, TV, newspapers, intellectuals and journalists".
:: Slovenia
The president of the small country where future First Lady Melania was born said he hopes relations with the US will further improve. "We are allied as part of NATO and I will strive for the friendship and the alliance to deepen further," Boris Pahor said.
:: Shock Across EU
Elsewhere in Europe, where many had harboured hope Mrs Clinton might win, officials were shocked.
European President Martin Schulz said it had been "another Brexit night", adding: "We are seeing a wave of protest against established politics which is also reflected in this election result."
Trump wins. Not only missed chance to elect a 1st woman president. Wake up call for Europe to further unite & take charge of its own destiny

— Guy Verhofstadt (@GuyVerhofstadt) November 9, 2016
The EU's top officials Donald Tusk and Jean-Claude Juncker invited Mr Trump to an EU-US summit "at your earliest convenience".
"Today, it is more important than ever to strengthen transatlantic relations," they said in a letter.
:: NATO
Secretary-General Jens Stoltenberg said "it is important that the Trans-Atlantic bond remains strong" and that "US leadership is as important as ever".
:: China
President Xi Jinping said he looked forward to working with Mr Trump. "I highly value China-US relations, and look forward to working together with you, and holding fast to mutual respect and non-conflict, non-confrontation," he said.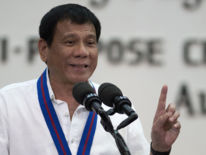 :: Philippines
President Rodrigo Duterte, who has lashed out at Mr Obama, said he looks forward to working with the new American leader to further enhance the treaty allies' relations.
:: Indonesia
The president of the world's most populous Muslim nation said he would work with Mr Trump's administration.
"We will keep good relations, especially in trade and investment as we know the U.S. is one of Indonesia's major investors. I think there will be no change," said Joko "Jokowi" Widodo.
But Komaruddin Hidayat, a noted Indonesian Islamic scholar, said Mr Trump has signalled backing for ultra-nationalist, isolationist and protectionist policies that could be harmful.
:: Japan
Prime Minister Shinzo Abe has sent his "heartfelt congratulations" Mr Trump.
"As a very successful businessman with extraordinary talents, not only you made a great contribution to the growth of the US economy, but now as a strong leader, you have demonstrated your determination to lead the United States," he said.
More follows…
Read more:
Donald Trump wins: US election results in full
Market mayhem as Donald Trump wins White House
Inequality, globalisation and why Donald Trump won
Donald Trump: US President number 45 stand up
So what does Donald Trump mean for Brexit?
Melania Trump: From model to US First Lady
Donald Trump's understudy: Who is Vice President-elect Mike Pence?