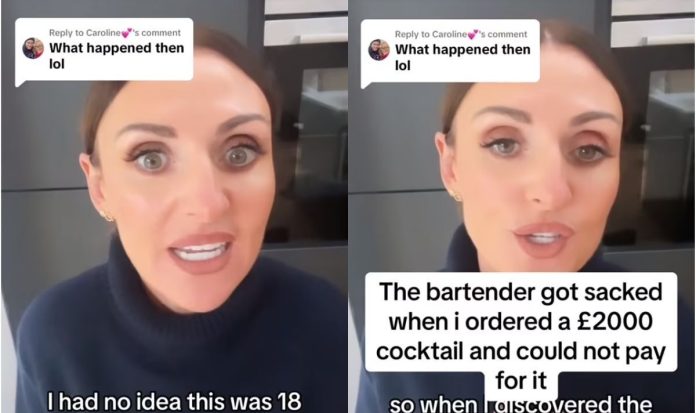 During her New Year's stay at a luxurious London five-star hotel, Lynsey Bennett, an Irish woman and businesswoman, found herself in an amusing yet costly situation. She inadvertently ordered a £1,890 cocktail, believing it to be priced at £18.90. In a viral TikTok video, Bennett shared her experience, explaining that she ordered a cocktail named "1890," assuming that was its cost. The cocktail turned out to be an extravagant mix featuring Cristal champagne, gold leaf, and 30-year-old Cognac.
Upon receiving the staggering bill, Bennett's husband, feeling furious, left her to handle the situation. Although she didn't disclose the hotel's name, Bennett apologized to the bartender, expressing her genuine ignorance about the cocktail's actual price. The hotel manager intervened discreetly, reassuring her not to worry about the mistake.
Bennett admitted she would have had a "heart attack" if stuck with the hefty bill and revealed that she didn't even enjoy the whisky-based cocktail because she doesn't like whisky. Despite attempting to avoid the bar afterward, Bennett, staying at the hotel for five nights, found herself back there one evening after getting "tipsy" during a meal with her sister.
Curious about the bartender who served her the expensive drink, Bennett inquired with the manager during her subsequent visit. In a lighthearted response, the manager joked that he had "sacked him." Eventually, Bennett and her companions enjoyed drinks with the manager and his family, turning the awkward encounter into a memorable New Year's experience.
The TikTok video garnered over 1,000 comments, with many expressing disbelief at the cocktail's exorbitant price and questioning the ingredients that justified such a cost. Despite the initial shock, Bennett humorously concluded that she would forever check cocktail prices before ordering in the future.