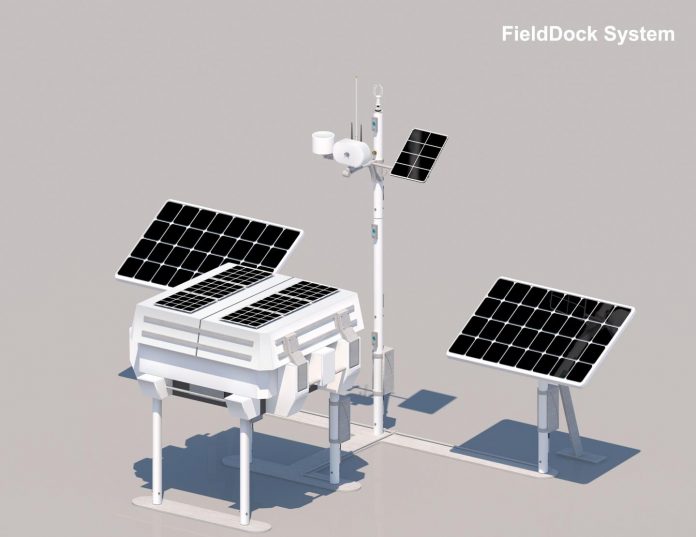 ST. LOUIS, MO, July 15, 2020 – The National Institute for Food and Agriculture and the National Science Foundation has awarded Nadia Shakoor, Ph.D., senior research scientist at the Donald Danforth Plant Science Center, a three-year, $1.4 million grant to develop FieldDock, an integrated smart farm system. The technology will collect and analyze real time data from the field, allowing for effective tracking of crop performance. This information will be used to guide researchers and breeders who are developing high-yielding, energy-efficient crops that are resilient to variable climates and help farmers make management decisions that will reduce water and energy use without compromising yield.
Automated systems like the FieldDock will pioneer breakthroughs for rapid advancement in digital agriculture and play a pivotal role in the machine-managed cyber-physical farms of the future.
The FieldDock will be a novel all-in-one system that integrates a sensor base station with GWAS/G x E x M/crop model edge processor, remote wireless sensor network and autonomous UAV drone deployment to generate a daily scalable, cohesive and interconnected set of field microclimate data. FieldDock will capture measurable plant traits, water usage, overall environmental and soil conditions as well as daily snapshots of how a crop is performing in real world conditions. The FieldDock platform will run entirely on renewable energy and is designed to ultimately have a zero-carbon footprint.
"We expect the FieldDock to transform the way crop scientists, breeders and farmers interact with agricultural technology and have a significant impact on the sustainability of food production," said Shakoor. "By providing an automated response and actionable management advice in real time, we can accelerate efforts to improve high-value food crops while reducing inputs including water, fertilizer, electricity and fuel used in crop research and production environments during the current field season and before the next crop cycle."
Comprehensive data analytics and prediction models developed over the course of the FieldDock project will also help guide future management strategies for the automation of farming practices.
"For almost a decade now our farm has embraced the use of many different kinds of technology–and it's paid off, both financially and by dramatically reducing the water we use. We're also going to take a look at how the FieldDock drone can help track sickness within livestock populations in order to detect disease and remove it from the supply chain as early as possible," said Dwane Roth, 4th generation farmer and owner of Roth Farms, Western Kansas
Shakoor is an expert in crop genetics/GWAS and QTL mapping and plant phenotyping. She is well-versed in the engineering of robust outdoor platforms and has previously built solar powered in-field phenotyping devices and wireless sensor networks. She has been the Project Director of multiple multi-institutional and international projects, including the Bill & Melinda Gates funded Sorghum Genomics Toolbox (SGT), an initiative that is developing genomic and phenotyping tools for improved breeding in sorghum, that includes regional cyber-physical platforms for remote sensing and imaging and the use of digital devices for in-field data capture. Shakoor is the Project Director for the TERRA-REF project that has deployed the largest field crop analytics robot in the world, currently being used for precision high-throughput phenotyping of energy sorghum. In addition to her research at the Danforth Center, she is also the Founder and CEO of Agrela Ecosystems, a startup technology company focused on plant science research and precision agricultural tools.
Shakoor is partnering with researchers at Saint Louis University, the University of Arizona, commercial farmers at Roth Farms, industry collaborators such as Microsoft and local collaborators Integrated Systems Engineering, Inc. and Benson Hill to build and test the FieldDock system. The project will also hire two postdoctoral associates for the project at Saint Louis University and the Danforth Center.
"The future of agriculture will highly depend on data-driven, AI-powered aerial and ground robots loaded with sensors that can measure plant physiology, estimate phenotypes, and provide color-coded maps of plant health and predicted yield in real-time. This project will develop a fully automated crop monitoring system providing sophisticated machine learning/AI technologies right to the grower's tablets, play an important role in improving crop productivity, food security, and quality of life globally," said Dr. Vasit Sagan, Associate Professor of GIScience, Faculty Director of Geospatial Institute at Saint Louis University
"The FieldDock project integrates many disparate technologies into a complex system. The project requires expertise in autonomous flight systems, power distribution, multiple wireless communication technologies, edge computing, and data management in the cloud. Successful completion of this system is dependent upon skills in mechanical, electrical, and software design, test and system integration. Given our experience and extensive background in complex systems integration, ISE is well-positioned for this project and excited to be a part of it," said Paul D. Buschmeyer, Principal Engineer, ISE.
"Benson Hill's crop design platform, CropOS™, brings together machine learning, big data analytics and biological knowledge to predict outcomes," said Jason Bull, CTO of Benson Hill, a crop innovation company dedicated to unlocking the natural genetic diversity of plants. "Dynamic tools like Dr. Shakoor's FieldDock integrates cyber-physical systems that gathers data necessary to help power CropOS analytics. Real-time data captured from UAVs and wireless soil sensors combined with infield analysis on various lines and the environment with FieldDock hold potential to accelerate Benson Hill's seed-to-shelf innovation pipeline."
Shakoor will work with the Danforth Center's Science Education and Outreach Programs department to design and implement a professional development workshop on the topics of technology and robotics in agriculture. Summer professional development workshops will be conducted for teachers and an Institute for Young Women, namely female high school and community college students. Workshop attendees will be invited from an already established network of urban, suburban and rural schools with which the Danforth Center has relationships.
###
About The Donald Danforth Plant Science Center
Founded in 1998, the Donald Danforth Plant Science Center is a not-for-profit research institute with a mission to improve the human condition through plant science. Research, education and outreach aim to have impact at the nexus of food security and the environment, and position the St. Louis region as a world center for plant science. The Center's work is funded through competitive grants from many sources, including the National Institutes of Health, U.S. Department of Energy, National Science Foundation, and the Bill & Melinda Gates Foundation. Follow us on Twitter at @DanforthCenter.